Call center training for managers is an important focus for any customer service call center if they want to be able to achieve a competitive advantage in the marketplace. These certification courses will help call center managers build on best practice skills needed to manage an effective and efficient call center.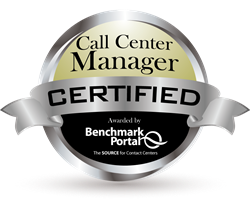 BenchmarkPortal and The College of Call Center Excellence introduce the 2013
Call Center Manager Training
schedule. This workshop is composed of information-rich modules that offer lectures, discussions and learning activities in the form of case studies that examine practical problem solving and current best practices. Originally developed by Dr. Jon Anton of Purdue University, the curriculum has been expanded and updated by Bruce Belfiore, Chancellor of the College, Senior Instructor Dayne Petersen and Jose Perez, Dean of the college.
The course focuses on specific areas of call center management that include organizational leadership, human resources, quality monitoring, customer satisfaction, the basics of WFM forecasting and scheduling, call center technologies, technology-enabled processes, knowledge management, caller self-service, analytics and reporting, and
call center benchmarking
.
Small class size allows for one-on-one interaction with the instructors, as well as networking opportunities with colleagues and industry peers. Participants also leave with "take aways" that are meant to enable them to make a real difference in their centers.
Participants in these workshops typically include
Call Center Managers
, Supervisors, Directors and Vice Presidents. The courses are designed to enable these leaders to better manage their call centers and strengthen relationships with other departments. Every attendee receives complete course documentation, a comprehensive workbook, and a certificate of completion.
All call center training courses by BenchmarkPortal and
The College of Call Center Excellence
include access to a complimentary benchmarking report and web-ex style presentation of the individual's benchmarking results with their college instructor, following the course. Managers report that they really appreciate the combination of interactive classroom work along with personalized focus on individual needs and challenges. This approach is considered to be unique to BenchmarkPortal's College of Call Center Excellence training.
True quality call centers exist as a result of quality training. BenchmarkPortal helps companies get the training they need, so that call centers perform at the levels others expect.
"I was very pleased how well the course was put together. It provides info relevant to small and large call centers. The course provides an indirect approach to the top call center concerns and validates all info that is given. If you run a call center this course is a must.," said, Mike Rooks, Call Center Supervisor. "Not only will you learn from the course, but every one else brings their info to the class and you can use them as a reference."
Jan. 22-24, 2013 - Orlando, FL at the Embassy Suites
Feb. 26-28, 2013 - Scottsdale, AZ at McKesson Specialty Health
Mar. 26-28, 2013 - Greensboro, NC at Lincoln Financial Group
May 14-16, 2013 - Minneapolis/Eden Prairie, MN at GE Capital Fleet Services
June 11-13, 2013 - Cincinnati/Mason, OH at EyeMed Vision Care
Aug. 6-8, 2013 - San Francisco, CA at a Business Centers
Sept. 10-12, 2013 - Hamilton, NJ at AAA Mid-Atlantic
Oct. 8-10, 2013 - Chicago, IL at American Medical Association
Nov. 4-8, 2013 - Las Vegas, NV at Call Center Campus Week