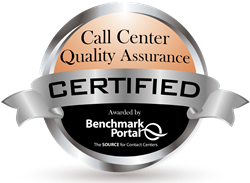 BenchmarkPortal is announcing their 2013
quality assurance training
for the contact center industry. The new schedule includes more in-person locations and new live online workshops. This workshop covers strategy, company culture, behaviors, assessment forms, service, compliance, call monitoring process, evaluation frequency, coaching, feedback, time management, recognition, technology and more.
Participants will gain an understanding of the specific requirements necessary to build a "best- in-class"
quality monitoring
and assessment process. They will learn how to build the monitoring and quality assessment program to meet the needs of the enterprise, the center, the agents and the callers. Participants will identify those agent behaviors that provide an excellent customer experience, i.e., reduce the customer effort to solve their problem, answer their question and drive loyalty. From this knowledge comes the development of the assessment processes, form for assessment and the scoring metrics that will measure the result.
Participants will learn the issues of calibration of the assessment and scoring processes, and how to deliver appropriate recognition and reward for the stakeholders of the process. This workshop will provide real- life example and exercises using strategic imperatives to assess the current program, make adjustments or develop an entirely new program that meets the needs of all stakeholders.
Small class size allows for one-on-one interaction with the instructors, as well as networking opportunities with colleagues and industry peers. Participants also leave with "take aways" that are meant to enable them to make a real difference in their centers.
Participants in these workshops typically include Call Center Managers, Supervisors, Directors and Vice Presidents. The courses are designed to enable these leaders to better manage their call centers and strengthen relationships with other departments. Every attendee receives complete course documentation and a comprehensive workbook.
All BenchmarkPortal
call center training courses
include access to a complimentary Benchmarking Report and web-ex style presentation of the individual's benchmarking results with their College instructor. Managers report that they really appreciate the combination of interactive classroom work along with personalized focus on individual needs and challenges. This approach is considered to be unique to BenchmarkPortal's College of Call Center Excellence training.
True quality call centers exist as a result of quality training. BenchmarkPortal helps your employees get the training they need, so that your call center will perform at the levels you and your superiors expect. "This is a very good course for beginners and experienced quality assurance professionals. It reinforces and re-orients individuals to the basic fundamentals that must be in place as well as additional options, ideas, tools and methods to consider employing. Thanks again for a very informative and interactive training session," said Mindy Lamb, Call Quality Director, Cigna. "I Really enjoyed it and found it very helpful with some of the changes we are in the midst of making in our program."